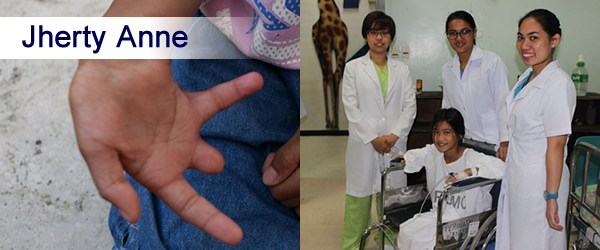 Jherty Anne from the Philippines:
Jherty Anne is 10 years old and comes from a very poor family in the Philippines. At birth, she had an IV placed in her hand incorrectly which caused an infection to occur. She received surgery on her hand and had to have a finger removed and another finger partially removed due to infection. In addition, the surgery caused severe scarring and contracture of the hand muscles, ligaments, and tendons of that hand. This contracture resulted in her hand being severely deformed with a loss in function. Her deformity could be corrected with hand surgery but her family had no way to pay for such surgery. Compassion Medicine identified a hand surgeon to conduct the surgery in the Philippines. Jherty Anne's surgery was very successful and she received additional follow-up and rehabilitation following her surgery. All coordination of surgery, follow-up rehabilitation, lodging, flights to Manilla, and food was paid for by Compassion Medicine. Jherty Anne can use her hand normally now and is excited and thankful to have a new start in life.

Letter from parents of Jherty to Compassion Medicine:
On behalf of the family of Jherty Anne, we take this opportunity to express our sincere appreciation to Compassion Medicine for helping her to get hand surgery she desperately needed. We are deeply grateful for your support and to all the people who are involved in your ministry. God will continue to bless you and to those people who help . Jherty's dream is to live normally like other kids can do. Compassion Medicine changed her life and made it more meaningful . You are the special gift from heaven for our lovely daughter. We will continue praying that not only my daughter but all the children with disfiguring medical conditions will be given the life changing surgery they need.
Thank you so much for making Jherty Anne's dream come true. God Bless you all!