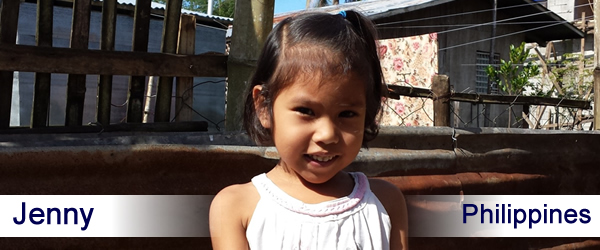 Jenny from the Philippines:
Jenny is a cute and adorable 4 year old girl from the Philippines who lives a simple life in a little shack made of light materials in a rural area 3 hour bus and 15 minute motorcycle ride away from the capital city of Bacolod where her father works at a nearby sugar mill and her mom works as a gardener. She is the youngest of 3 children and is loved by everybody in her family.
Jenny was born with Tetralogy of Fallot, a condition that involves anomalies in the heart that would be life threatening if left untreated. From where Jenny is from, access to primary health care is very limited and both her parents only earn a meager 6 dollars a day just barely enough to make ends meet . When they learned of Jenny's condition, they were told how expensive the heart surgery would be.
Disheartened , hopeless, and helpless , Jenny's family could just hope and pray for her well-being because they could not afford her medical expenses . With dark lips and palms, fainting episodes, the idea of laughing, playing, even just taking a little walk would leave her gasping for air clinging to life as her condition worsened over time. Her mom was scared that one day Jenny would just be taken away from them.
This all came to an end when volunteers of Compassion Medicine learned of Jenny's condition. When Compassion Medicine saw Jenny, they saw a shy gloomy little kid deprived of most daily activities repressing her feelings only to stare and smile as her playmates would run around her. Jenny's life took a turn when Compassion Medicine got involved, showed compassion for Jenny, and arranged for her heart surgery. They worked through the missionaries to the Philippines and networked to identify a heart surgeon and hospital to do the surgery. They also paid for all her medical expenses and all expenses for lodging, food, and transportation to get her to the heart hospital in Manilla.
Surgery day came and the surgery was a total success! Today Jenny is a lively kid that had her dreams brought back to life, running around , laughing , and playing like there's no tomorrow. "I want to be a teacher when I grow up " says Jenny. Her mom says she now has a hard time keeping up with her because she was like a bird that got out of the cage and has been set free. Her parents said: " We are very blessed and thankful now that Jenny is a normal kid again, for people like us that earn very little , the idea of getting her heart surgery was far too farfetched. The feeling is so surreal that we would have never thought in a million years that God would bestow us this privilege and blessing through Compassion Medicine and words cannot express our gratitude. We hope and we pray that, like Jenny's life, Compassion Medicine will continue to bless more children like her".
Jenny's is only one of many that have been aided by compassion medicine. Children from third world countries like hers are in a hopeless situation often brought in by poverty. Through the grace of God, Compassion Medicine and its partners, children like Jenny can have another chance in life and a brighter future.