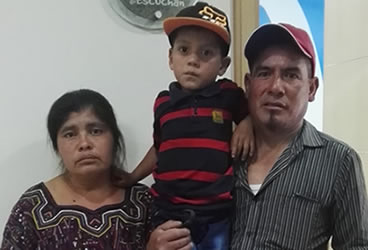 Francisco from Guatemala:
Francisco is a 5 year old boy from Guatemala who comes from a very poor family. He was born deaf in both ears (bilateral neurosensorial hypoacusis). He has never heard a human speak, never heard birds sing, never heard the beauty of music, and will be limited in his abilities in school and the types of work he can do in life because of his deafness. In the rural Guatemala mountains where he lives, there are no doctors, clinics, hospitals, or people to teach sign language.
Compassion Medicine was able to coordinate surgery for adding a cochlear implant in both of Francisco's ears. The impact of the result is life-changing as Francisco can hear for the first time in his life. He can finally hear his parents tell him they love him, ensure he is able to speak with his friends, hear the sounds of nature, enjoy music, and be able to function in society. His life is forever changed!